US president tries a tougher Russian stance
US President Donald Trump on Wednesday spent a second day managing the political fallout from his widely criticized meeting with Russian President Vladimir Putin, shifting stances and mopping up what the White House said were misstatements.
His toughness with the longtime US foe in question, Trump said that he told Putin face-to-face during Monday's summit to stay out of US elections "and that's the way it's going to be," marking a turnaround from Trump's first description of his meeting with Putin.
Still, Trump backtracked on whether Russia is targeting US elections.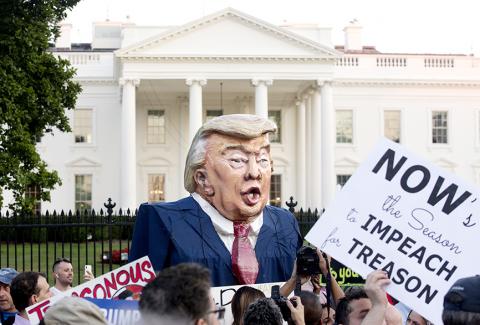 An oversized puppet depicting US President Donald Trump that is labeled "Putin's Puppet" is among a crowd of hundreds of people participating in a national vigil "to demand democracy" and to "confront corruption" on Pennsylvania Avenue outside the White House in Washington on Wednesday.
Photo: EPA
When asked the question on Wednesday, he answered "no," a reply that put him sharply at odds with public warnings from his own intelligence chief.
Hours later, the White House stepped in to say that Trump's answer was not what it appeared.
The zigzagging laid bare the White House's search for a path out of trouble that has dogged the administration's discussions of Russia from the start, but spiraled after Trump's trip to Helsinki.
After days of criticism from Democrats and Republicans, Trump has appeared more sensitive than usual to outside opprobrium.
The scale of the bipartisan outcry at Trump's stance toward Putin has only been rivaled by his waffling last year over condemning white supremacist demonstrators in Charlottesville, Virginia.
"I let him know we can't have this," Trump told CBS News of his conversations with Putin. "We're not going to have it, and that's the way it's going to be."
Asked if he would he hold Putin personally responsible for further election interference, he replied: "I would, because he's in charge of the country."
Trump on Wednesday was asked during a Cabinet meeting if Russia was still targeting the US, to which he answered "no" without elaborating.
That came just days after US Director of National Intelligence Dan Coats compared the cyberthreat today to the way that US officials before 9/11 said that intelligence channels were "blinking red" with warning signs that a terror attack was imminent.
White House press secretary Sarah Huckabee Sanders later on Wednesday said that Trump was actually saying "no" to answering additional questions — even though he went on to address Russia.
"The president is wrong," US Senator Susan Collins said of Trump's one-word response.
Told that Sanders had since clarified, she responded: "There's a walk-back of the walk-back of the walk-back of the walk-back? This is dizzying."
Pressed on why Trump has repeatedly passed on opportunities to publicly condemn Putin's actions, Sanders said that Trump was working to make the most of an "opportunity" for the two leaders to work together on shared interests.
One such opportunity is what Trump called an "incredible offer" from Putin to allow the US access to Russians accused of election hacking and other interference. In exchange, Putin wants Russian interviews of Americans accused by the Kremlin of unspecified crimes.
Sanders said that Trump was still weighing the offer with his team, adding: "We've committed to nothing."
Comments will be moderated. Keep comments relevant to the article. Remarks containing abusive and obscene language, personal attacks of any kind or promotion will be removed and the user banned. Final decision will be at the discretion of the Taipei Times.