Trump says Russia to "help with North Korea" nuclear jam
US President Donald Trump yesterday said Russia would help with North Korea and offered an enthusiastic update on the US process of negotiating with the antagonistic Asian nation over nuclear weapons.
"Russia has agreed to help with North Korea, where relationships with us are very good and the process is moving along," Trump said on Twitter. "There is no rush, the sanctions remain! Big benefits and exciting future for North Korea at end of process!"
At the same time that the tweet was published, Russia's state-owned RIA Novosti reported that a summit between the leaders of Russia and North Korea is "on the agenda."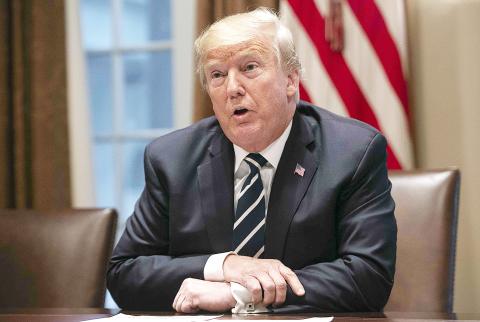 US President Donald Trump speaks with journalists before a meeting with Republican lawmakers and Cabinet members on tax cuts at the White House in Washington on Tuesday.
Photo: AFP
Trump last month met North Korean leader Kim Jong-un in Singapore in the first US-North Korean summit and received a letter from the reclusive leader expressing hope for "practical actions."
Earlier this week, Trump also had an extensive one-on-one meeting with Russian President Vladimir Putin, where he said they discussed reducing nuclear weapons worldwide.
Many details of those talks have not been publicly released.
Trump on Tuesday said that there is no hurry to denuclearize North Korea under his accord with Kim — a shift in tone from when the US leader said the process would start very soon.
"Discussions are ongoing and they're going very, very well," Trump told reporters. "We have no time limit. We have no speed limit."
Trump said he discussed North Korea with Putin on Monday at their summit in Helsinki.
"President Putin is going to be involved in the sense that he is with us," Trump said.
The North Korean leader pledged at the summit to work toward denuclearization of the Korean Peninsula, but the accord did not spell out a timetable for the process, or say how it would be carried out. Diplomats are expected to finalize the details.
More than a month later, no concrete progress has been reported and North Korea has complained that the US is making unilateral demands.
Before the Singapore summit, the Trump administration said denuclearization should start "without delay," and after the meeting, it spoke of the process beginning "very quickly."
US Secretary of State Mike Pompeo met with Kim's key aide this month during his latest trip to Pyongyang, but as soon as he left, the North Korean Ministry of Foreign Affairs berated him over his "unilateral and gangster-like" demands.
However, Trump last week signaled optimism, unveiling a letter from Kim in which the young leader hailed the "start of a meaningful journey" and tweeting "Great progress being made!"
Additional reporting by AFP
Comments will be moderated. Keep comments relevant to the article. Remarks containing abusive and obscene language, personal attacks of any kind or promotion will be removed and the user banned. Final decision will be at the discretion of the Taipei Times.