US imposes tariffs on EU, Mexico and Canada
STEEL AND ALUMINUM: EU President Jean-Claude Juncker said the EU would retaliate within hours, while the Mexican Secretariat of the Economy announcing sweeping tariffs on a host of US goods
US President Donald Trump's administration yesterday announced it would impose tariffs on steel and aluminum imports from Europe, Mexico and Canada after failing to win concessions, effective as of midnight last night in Washington.
US Secretary of Commerce Wilbur Ross said the tariffs would be 25 percent on steel and 10 percent on aluminum.
Wire agency reports cited Ross as telling reporters that talks with Canada and Mexico over revising the North American Free Trade Agreement were "taking longer than we had hoped."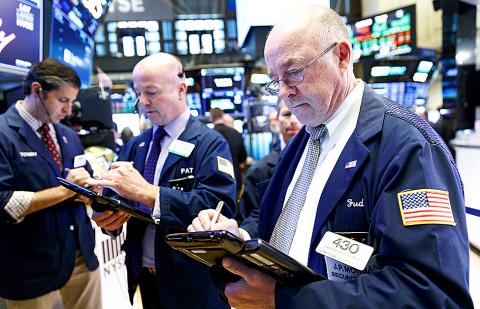 Traders work on the floor of the New York Stock Exchange at the opening bell in New York City yesterday, prior to US Secretary of Commerce Wilbur Ross' announcement that Washington was imposing tariffs on imports from the EU, Canada and Mexico: 25 percent on steel and 10 percent on aluminum imports.
Photo: EPA-EFE
Talks with Europe had "made some progress," but not enough for additional exemptions, he said, adding: "We continue to be quite willing and indeed eager to have further discussions.
EU President Jean-Claude Juncker told a news conference in Brussels that the EU would announce within hours what steps it would take to retaliate for what he called "protectionism, pure and simple."
"This is a bad day for the world trade," Juncker said. "The European Union cannot react to that without any kind of reaction."
He said that the EU would also launch a dispute settlement procedure against the US at the WTO.
European Commissioner for Trade Cecilia Malmstroem said the EU had tried "everything to avoid this outcome" in talks with Trump's administration over the last two months.
"I have argued for the EU and the US to engage in a positive transatlantic trade agenda, and for the EU to be fully, permanently and unconditionally exempted from these tariffs," she said. "This is also what EU leaders have asked for."
The US tried to use the threat of sanctions as "leverage to obtain concessions" from the EU, but "this is not the way we do business," especially between longstanding allies, she said.
Britain, which has hopes of agreeing a trade liberalization deal with the US after Brexit, expressed alarm at Ross' announcement.
"We are deeply disappointed that the US has decided to apply tariffs to steel and aluminium imports from the EU on national security grounds," a government spokesman said.
The response from Mexico was swift, with the Mexican Secretariat of the Economy announcing sweeping retaliatory tariffs on a host of US goods ranging from steel to lamps to apples, "up to an amount matching the level of impact" from the US tariffs.
"Mexico deeply deplores and condemns the decision by the United States to impose these tariffs," it said in a statement. "Mexico has stated repeatedly that this type of measure, based on national security, is neither appropriate nor justified."
US stocks fell and Treasuries rose after the US' announcement and the EU and Mexico's vows to retaliate.
The S&P 500 Index dropped for the second time in three days, while stocks in Europe declined.
The yield on 10-year Treasuries dropped to 2.83 percent, while the US dollar turned higher and the euro erased gains.
"We are going to be filled with tremendous uncertainty over the course of the summer," David Ader, chief macro strategist at Informa Financial Intelligence, told Bloomberg Television. "I don't see that at this point in time we have a big directional play. I see a lot of uncertainty, which results in a lot of volatility."
Comments will be moderated. Keep comments relevant to the article. Remarks containing abusive and obscene language, personal attacks of any kind or promotion will be removed and the user banned. Final decision will be at the discretion of the Taipei Times.