South Korean court jails Park for 24 years
DENIED: Former South Korean president Park Geun-hye was fined US$16.8m and found guilty of collusion with her long-time friend and confidante Choi Soon-sil
A South Korean court yesterday jailed former South Korean president Park Geun-hye for 24 years over a scandal that exposed webs of corruption between political leaders and the country's conglomerates.
Park last year became South Korea's first democratically elected leader to be forced from office when the Constitutional Court ordered her out over a scandal that landed the heads of two conglomerates in jail.
The court also fined Park, the daughter of a former military dictator, 18 billion won (US$16.8 million) after finding her guilty of charges including bribery, abuse of power and coercion.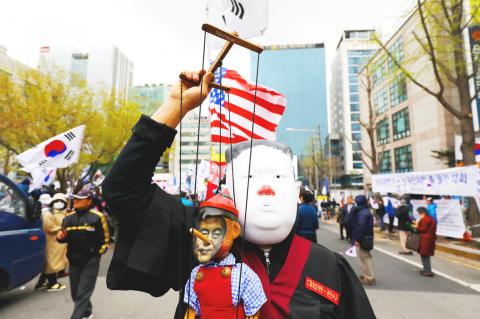 A supporter of former South Korean president Park Geun-hye, wearing a mask of North Korean leader Kim Jong-un, holds a scarecrow mock-up with a photograph of South Korean President Moon Jae-in during a protest outside the Seoul Central District Court in South Korea yesterday.
Photo: Bloomberg
"The defendant abused her presidential power entrusted by the people, and as a result, brought massive chaos to the order of state affairs and led to the impeachment of the president, which was unprecedented," judge Kim Se-yoon said as he handed down the sentence.
The court ruled that Park colluded with her old friend Choi Soon-sil to receive 23.1 billion won from major conglomerates including Samsung Group and Lotte Group to help Choi's family and bankroll non-profit foundations owned by her.
Prosecutors sought a 30-year sentence and a 118.5 billion won fine for Park.
Park, 66, who has been in jail since March 31 last year, has denied wrongdoing and was not present in court.
The judge said Park had shown "no sign of repentance," but had instead tried to shift the blame to Choi and her secretaries.
"We cannot help but sternly hold her accountable," Kim said.
Park apologized at her trial for seeking help from Choi, who had no policy or political experience, but that was as close as Park came to admitting any guilt.
The sentence will be a bitter blow for Park, who returned to the presidential office in 2012 as the country's first woman leader, more than three decades after she left it following the assassination of her father.
Her ouster from office last year led to a presidential election won by South Korean President Moon Jae-in, whose conciliatory stand on North Korea has underpinned a significant warming of ties between the rival neighbors.
Comments will be moderated. Keep comments relevant to the article. Remarks containing abusive and obscene language, personal attacks of any kind or promotion will be removed and the user banned. Final decision will be at the discretion of the Taipei Times.