Group urges rights for 'stateless kids'
MIGRANT WORKERS: There are about 1,300 stateless children facing urgent problems, such as lack of access to health and medical services, the Legal Aid Foundation said
Taiwan should amend relevant laws to deal with the issue of "stateless children" born to migrant workers, a legal expert said yesterday, citing hundreds of undocumented children born in the nation annually.
These children face obstacles in receiving education and healthcare, and are being deprived of their basic rights, Legal Aid Foundation deputy chief executive officer Lin Tsung-hsien (林聰賢) told a seminar in Taipei.
"On average, 700 babies are born to migrant workers in Taiwan each year. About one-quarter of them are unable to register and obtain residency status, because their parents are foreigners on work contracts for a few years only," Lin said.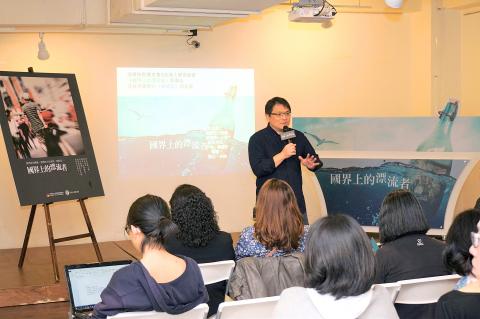 Legal Aid Foundation deputy chief executive officer Lin Tsung-hsien speaks at the launch of a book about stateless people's rights in Taipei on Dec. 28 last year.
Photo: CNA
"About 1,300 of these children are stateless and some of them have no place to live, while others are cared for by single parents. They face urgent problems, including lack of access to health and medical services," he said, citing data provided by Harmony Home Association.
Harmony Home is a nonprofit organization that offers shelter and services to migrant workers in need and their children, as well as provides care and support to people living with HIV/AIDS.
Speaking from his experience working with the foundation to assist a number of "stateless children" cases, Lin said that when these children grow up, they have no citizenship and face obstacles in gaining access to social services, enrolling in schools or finding legal work opportunities.
"We find that these children are dealt with on a case-by-case basis. As their numbers are increasing, we urge the government to establish a set of standards to handle all of these cases as a whole and work to amend relevant laws," Lin said.
It is a growing problem, because of the rising number of migrant workers coming to Taiwan in recent years, he said.
The proliferation of new communications technology and social networking apps for people to meet up has also contributed to an increase in the birth of more stateless children.
As of May last year, the nation had a total of 647,915 migrant workers, up from 551,596 in 2014, 587,940 in 2015 and 624,768 in 2016, Ministry of Labor statistics showed.
Lin said he understands why the government handles the issue on a case-by-base basis, but it is time-consuming and problematic, as it deprives stateless children of their rights.
"Taiwan is a multicultural society, and we should open up to accept people of different cultures. We should not close our eyes to this problem," Lin said. "Some of these children might live in Taiwan their whole lives, and they have should basic human rights as well."
Dealing with one or two of these cases might not seem much, "but when you are talking about hundreds and thousands of these cases, then this will cause a really big problem for our society," Lin said.
Comments will be moderated. Keep comments relevant to the article. Remarks containing abusive and obscene language, personal attacks of any kind or promotion will be removed and the user banned. Final decision will be at the discretion of the Taipei Times.