Lee Yuan-tseh prepares for APEC
OLIVE BRANCH The Nobel laureate said that he will give a message of goodwill to Chinese President Jiang Zemin but will not address Sino-US relations or Beijing's missiles
A message of goodwill from President Chen Shui-bian (陳水扁) will be passed on to Chinese President Jiang Zemin (江澤民) by Lee Yuan-tseh (李遠哲), Taiwan's representative at the APEC, in Mexico this weekend, Lee told reporters yesterday. \n"I certainly will deliver a message of goodwill from the president when I meet Jiang," Lee said at a news conference yesterday. \nAs the head of the Academia Sinica and this year's presidential envoy to the APEC leaders summit, Lee said yesterday that the meetings are not the place to resolve pragmatic problems, but a goodwill gesture will be certainly delivered. He also said that Chen did not give him concrete instructions about the matter last Friday when the two met. \nLee will depart for Los Cabos, Mexico tomorrow afternoon before which he will still have a chance to meet Chen to discuss details of his mission. Lee will sit next to the US President George W. Bush for four hours and will have the opportunity to meet Jiang. \nAnswering questions from reporters about what he would say to the two leaders, Lee said, "There are many things to discuss. I don't have any agenda in mind." But he said he would not necessarily ask questions about Sino-US relations and would not mention China's deployment of missiles aimed at Taiwan, because, "That would appear impolite." \n"APEC is not the right venue to discuss such issues," he said, adding that, "rather than a field for diplomatic fighting, APEC presents an opportunity for Taiwan to raise its image in the international arena." \nThe Nobel laureate also said talks with China on the establishment of direct links would not likely materialize at the summit. \nAfter receiving the Nobel Prize for chemistry in 1986, Lee had the chance to go to China and visit with Jiang three times during which they talked about technology and education development in China. \n"He [Jiang] is not a stranger to me," Lee said. \nDenying that Taipei had asked him to pass on any specific message to the Chinese authorities, he said Chen asked him to "give his best regards" to Jiang. \nAt the news conference, Lee also encouraged Taiwan to have more interaction with China without fearing that Beijing will use direct links as an opportunity to push for unification. \n"With the trend of globalization, national boundaries are not that important," he said. \nHe stressed that the most important thing for Taiwan when attending the APEC meeting is earning respect from other countries by making contributions in the bilateral meetings with leaders from other countries. \nHe also gave a briefing of his speech which will be delivered at the meeting. \nHe said oil will run out within 40 years if the current supply and demand of oil continues, and he predicted that there will be an energy crisis within the next 20 years. \nGiven that research on alternative power sources may not see any real progress within the next 20 years, he said nuclear power might be a temporary solution for this problem. \nSince Taiwan and China both joined APEC in 1991, China has blocked Taiwan's presidents and foreign ministers from attending the organization's annual forums. \nKMT Deputy Chairman Vincent Siew (蕭萬長), Straits Exchange Foundation Chairman Koo Chen-fu (辜振甫), Legislative Vice Speaker Chiang Pin-kung (江丙坤), and central bank Governor Perng Fai-nan (彭淮南) have been consulted by Lee for their experience with APEC. \nAlso See Stories: \n \nAPEC delegation hits Mexican resort \n \nMaking the most of the APEC meet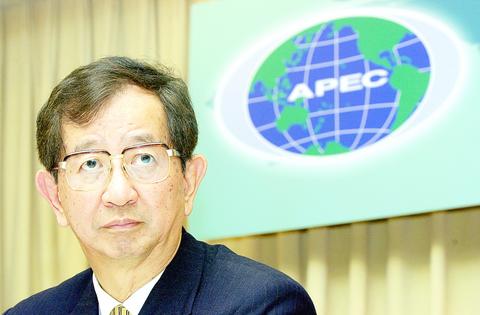 Academia Sinica President Lee Yuan-tseh, who will travel to Mexico tomorrow to serve as Taiwan's representative at the APEC leaders summit, listens to a question during a press conference yesterday.
PHOTO: CHEN CHENG-CHANG, TAIPEI TIMES
Comments will be moderated. Keep comments relevant to the article. Remarks containing abusive and obscene language, personal attacks of any kind or promotion will be removed and the user banned. Final decision will be at the discretion of the Taipei Times.