When nature talks, this artist draws
An artist from the US shares his experience on how working at a nature camp in Yangmingshan has influenced his comics and his desire to "keep Taiwan weird"
Jameson Zimmer is the sort of person who finds wonder in simplicity and whimsy in the ordinary. When I tell him I grew up in the mountains of Yangmingshan (陽明山) in northern Taipei, he says it must have been "magical" — when what stands out the most in my memory, by contrast, is having to kill snakes and spiders that frequently crawled from the nearby forest into my room.
The Virginia native who currently works part-time as an instructor at Camp Taiwan, a nature camp for children in Yangmingshan, spends the rest of his time eking out a living creating cute comics, Internet art and zines. He's also the author of the forthcoming illustrated children's book, Bedtime in Yangmingshan.
Raised on a farm in rural Virginia by a printmaker mother and dairy herdsman father, Zimmer found his way to Taipei by fluke. After studying creative writing in college, he worked in outdoor recreation leading bicycle tours and organizing backpacking trips. Wanting to travel more, he searched for opportunities to continue working with children outdoors — and Taiwan was one of the few places outside of the US to offer that.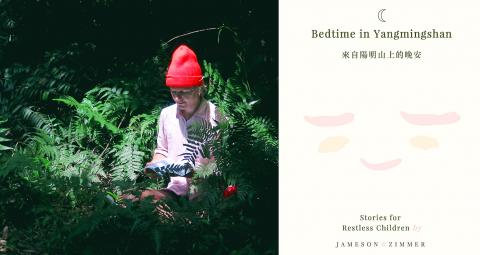 Jameson Zimmer's forthcoming illustrated children's book Bedtime in Yangmingshan is inspired by his experience working at a nature camp in Yangmingshan.
Photo courtesy of Moonie Tyler
Zimmer says the main themes in his art and writing are nature, childhood and melancholy. As he soon discovered, Taipei's blend of laidback metropolitanism, combined with its unpretentious art scene and easy access to nature, would provide the perfect setting for him to hone his craft.
"The city has a quiet and refined sensibility that's really appealing to someone who would rather spend time doing creative things at a co-working space than getting drunk at a bar," Zimmer says.
That being said, he says he has spent countless nights pouring over art and design books in the Dunhua Eslite Bookstore (誠品) — which is open 24 hours a day — where he finds inspiration from the minimalistic graphic style of local designers such as Nieh Yung-chen (聶永真) and Wang Chih-hung (王志弘). Sharing the space with other "insomniac introverts" gave him encouragement that there were opportunities for dreamy, creative types to do well in the city.
Jameson Zimmer sketches comics in Rainbow Riverside Park in Taipei.
Photo courtesy of Moonie Tyler
He adds that it's "very cool to see people making a living screen-printing, embroidering, making zines and generally doing awesome stuff."
SWEATY ROCKS
Zimmer's drawings and writings dabble in light-hearted humor. His style, like his personality, is charming and whimsical rather than lofty or sarcastic. He uses phrases such as "clattering palm leaves" and "creepy bamboo thickets," and sketches cutesy-looking comics with black ink or watercolors.
Jameson Zimmer says he prefers a minimalistic drawing style.
Photo courtesy of Moonie Tyler
"People definitely respond well to a light-hearted drawing style, especially here," he says.
Despite his humble demeanor, Zimmer has managed to hone in on what makes Taiwanese audiences tick — and this shows in the characters he creates for the popular messaging app Line.
He initially started with inventing his own animated GIFs for chatting with friends in China on WeChat (a messaging app used in China) and decided one day to submit some ideas to Line.
"It's just a question of figuring out the sort of aesthetic they like, adhering to their guidelines and waiting months on end for them to look at your designs," Zimmer says.
Featuring two little stones in a symbiotic love-hate relationship, Sweaty Rock — Zimmer's latest set that he's working on for Line — is largely a commentary on his impressions of Taiwanese couple culture, notably the ups, the downs and all the hilarity in between.
The stones are "always invading personal space and trying but failing to help each other out," he says.
In other words, they act like any couple would, thus making them extremely relatable.
UNDER THE RADAR
Quirky characters and situations can also be found in Bedtime in Yangminshan, which, as the name suggests, is a collection of bedtime stories that Zimmer made up for the children at the nature camp.
Seeing as the Taiwanese education system can be quite rigorous and stressful, Zimmer says the kids are "super lucky" to have the opportunity to be doing outdoor activities such as rock climbing and river tracing. He also created his own class called "faerie architecture" where the children make boats out of sticks, leaves and flowers.
"Being around kids in a pro-creativity environment can be really inspiring," he says.
Although he wrote the book without the intention of having a wider audience, young readers should still be able to relate to the broader theme of nature's wonder. Stories that tend to fare well, Zimmer says, are ones that address children as equals, and that are earnest but humorous in the sense that they allow the listener to be in on the joke.
"I had a big stake in them being effective at getting everyone sleepy, since I couldn't sleep myself if the kids were up all night jumping around acting crazy."
The book will also include a three-dimensional map of Yangmingshan — with some added fantastical elements.
"Getting to do ridiculous stuff like that is the silver lining in the hard work that is self-publishing," he says.
An artist working in a nature camp who occasionally designs cartoons for messaging apps and writes children's books might seem like an odd combination — but perhaps a setting like Taipei is most conducive for someone like Zimmer.
As Zimmer himself says, "the fact that it's under the radar and off the beaten expat trail is part of the appeal, from my perspective."
Making Taiwan known to the rest of the world isn't a part of his ultimate goal, although he says that Taiwan has greatly shaped his development as an artist and writer. He also jokes that it would be nice to go to a bank in Virginia and not be handed an envelope filled with Thai Baht again (apparently there are still people who think that Taiwan and Thailand are the same country).
"It makes me think of those Portland bumper stickers — 'Keep Portland Weird,'" Zimmer says. "I hope that Taiwan stays weird."
Comments will be moderated. Keep comments relevant to the article. Remarks containing abusive and obscene language, personal attacks of any kind or promotion will be removed and the user banned. Final decision will be at the discretion of the Taipei Times.