Movie review: Joyful Reunion (飲食男女— 好遠又好近)
Billed as a sequel to Ang Lee's 'Eat Drink Man Woman,' director Tsao Jui-yuan's foodie film leaves a bad taste in the mouth
Eighteen years after Ang Lee's (李安) Eat Drink Man Woman (飲食男女) hit the big screen, the film's producer Hsu Li-kong (徐立功) and award-winning television director Tsao Jui-yuan (曹瑞原) are releasing what's billed as the sequel, Joyful Reunion (飲食男女—好遠又好近), which stars one of the original cast, Kui Ya-lei (歸亞蕾).
The film relies on the same concept of mixing food and human relationships, but content-wise it's not sequel at all. The result, a narratively uneven tale about two families in China and Taiwan, delivered with a message of reunification, is nothing like Lee's 1994 work, which explores familial relations and social reality.
In present-day Hangzhou, China, aging chef Tang Shizhe (Kenneth Tsang, 曾江) and his two daughters lead respectable and comfortable lives, thanks to the father's prosperous vegetarian restaurant.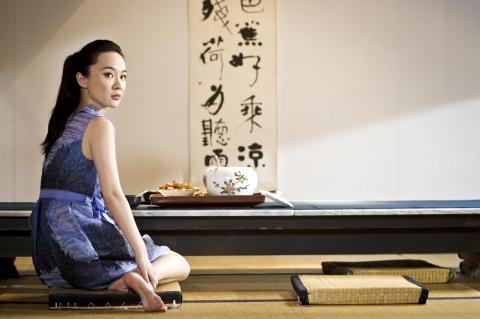 Whether Joyful Reunion is politically naive, or just a cynical ploy to tap China's market, is open to question.
Photo courtesy of Activator Marketing Company
The elder daughter, Wa'er (Huo Siyan, 霍思燕), whose boyfriend, Chang Chuan (Blue Lan, 藍正龍), is a slightly nerdy computer game designer from Taipei, manages a luxury health resort.
One day Chang takes his aunt, Pai Ping (Kuei), who raised him like her own son, back to Hangzhou after a trip to Taipei.
To Ping, the Chinese city, which she grew up in and has not visited after fleeing to Taiwan during the Chinese Civil War, looks unrecognizable at first. But she soon settles into the luxurious surroundings at the resort where Wa'er works.
Meanwhile, Shizhe announces his plan to sell the restaurant because the chronic illness he suffers from is starting to take its toll. While agonized by her father's condition, Wa'er is fed up with being neglected by Chang, who spends too much time in the virtual world, and decides to break up with him.
In an attempt to get the two back together, Pai phones Shizhe, who invites her to his restaurant for a feast. When the elders meet, memories come rushing back.
The film's most glaring flaw is its structurally shaky screenplay, which was penned by six writers and two contributors, who are credited with "script coordination."
While the movie's most enjoyable moments are when the screen is dominated by Kui's high-energy performance, she sometimes overdoes the comic delivery.
Anchored by Tsang's quiet poise, Kui moves freely from a forthright, loud-mouthed waishengren (外省人, or person who fled to Taiwan after the Chinese Civil War) visiting The New China, to a woman reliving the emotions of her past life.
As the English title suggests, Joyful Reunion is more of a fairy-tale in which two generations learn to get along and live happily ever after. Whether the film is politically naive, or just a cynical ploy to tap China's market, is up to the audience to decide.
Publication Notes
Joyful Reunion
飲食男女—好遠又好近
Directed by: Tsao Jui-yuan (曹瑞原)
Starring: Kuei Ya-lei (歸亞蕾) as Pai Ping, Kenneth Tsang (曾江) as Tang Shizhe, Blue Lan (藍正龍) as Chang Chuan, Huo Siyan (霍思燕) as Wa'er
Language: In Mandarin with
Chinese and English subtitles
Running time: 107 minutes
Taiwan release: Today
Comments will be moderated. Keep comments relevant to the article. Remarks containing abusive and obscene language, personal attacks of any kind or promotion will be removed and the user banned. Final decision will be at the discretion of the Taipei Times.