Smartphone maker Xiaomi files for listing in Hong Kong
Chinese smartphone maker Xiaomi Corp (小米) yesterday filed documents with Hong Kong's stock exchange operator for an initial public offering (IPO) that could be the world's biggest share sale in years.
Beijing-based Xiaomi is the world's fourth-biggest smartphone maker by shipment volume, according to International Data Corp.
The listing documents provided no financial details about the share sale or the company's valuation.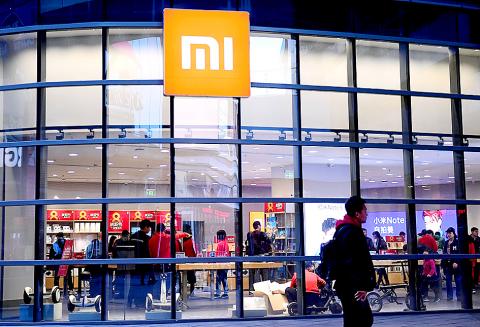 A man walks past a Xiaomi store in Shenyang, Liaoning Province, China, on April 7.
Photo: Reuters
The South China Morning Post cited unnamed banking sources as saying Xiaomi plans to raise up to US$10 billion in a deal that would value the company at US$100 billion.
That would make it the biggest IPO since Chinese e-commerce giant Alibaba Group Holding Ltd's (阿里巴巴) US$21.8 billion IPO in 2014 on the New York Stock Exchange.
Xiaomi, founded in 2010, has expanded rapidly on the strength of smartphone handsets priced as low as US$115 and Internet-based marketing and distribution.
The listing documents offered a glimpse of Xiaomi's finances, with the company reporting that revenue rose by two-thirds last year to 114.6 billion yuan (US$18 billion), including 80 billion yuan from its smartphone division.
Xiaomi's business also includes partnering with "Internet of Things" companies to develop hundreds of connected lifestyle devices, such as rice cookers, robot vacuum cleaners and coffee makers.
Operating profit tripled to 12.2 billion yuan, but the company still lost nearly 44 billion yuan last year, mainly due to the cost of converting preferred shares held by investors.
Xiaomi's decision to go public in Hong Kong comes days after the territory's stock exchange loosened listing rules, an apparent vindication of its efforts to better compete with rival bourses in the race for blockbuster offerings.
Xiaomi is applying for a Hong Kong stock listing with dual share classes that give certain shareholders much more power, which the new rules allow.
The exchange modified its regulations to accommodate such companies after losing Alibaba's dual-class listing to New York because rules at the time only allowed a single share class.
Comments will be moderated. Keep comments relevant to the article. Remarks containing abusive and obscene language, personal attacks of any kind or promotion will be removed and the user banned. Final decision will be at the discretion of the Taipei Times.