Deutsche Bank cuts more to fight earnings plunge
Deutsche Bank AG, Germany's biggest lender, yesterday reported a slump in profits in the first quarter, with new CEO Christian Sewing announcing deep cuts at its flagship corporate and investment banking division to tackle its woes.
Net profit at the Frankfurt-based group fell 79 percent year-on-year to 120 million euros (US$146 million).
Pre-tax profit fell 51 percent to 432 million euros, as sales dropped 5 percent to 7 billion euros.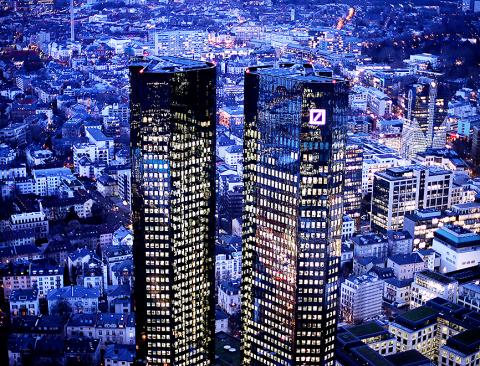 The towers of Deutsche Bank in Frankfurt, Germany, are pictured on Feb. 1.
Photo: AP
"We have to act decisively and to adjust our strategy. There is no time to lose as the current returns for our shareholders are not acceptable," Sewing said in a statement.
A Deutsche Bank lifer, Sewing was promoted this month to replace crisis-fighting CEO John Cryan.
The British boss extricated the bank from its painful legal hangovers from the financial crisis, but failed to steer it back to profitability over years of restructuring, reporting three annual losses in a row.
With much of the pain centered on the corporate and investment bank, the flagship division — which accounted for more than half of Deutsche's revenue in the first quarter — is first in line for reform.
In a separate statement, the group said the unit would "focus its activities and resources on its European and multinational clients and the products which are most relevant for them, while reducing its exposure to other areas."
In corporate finance, it plans more engagement in Europe while slashing its commitment to the US and Asia, saying it would address clients "whose activities are closely aligned with the strengths of the German and European economies."
Deutsche will also retreat from some trading in bonds and other financial market products in the US to pursue the "more attractive returns" on offer in Europe.
Moreover, it will likely reduce the size of its stocks trading business following a review.
Sewing said there would be "painful, but regrettably unavoidable" cuts in staff numbers "to ensure our bank's competitiveness in the long run."
Comments will be moderated. Keep comments relevant to the article. Remarks containing abusive and obscene language, personal attacks of any kind or promotion will be removed and the user banned. Final decision will be at the discretion of the Taipei Times.