Temasek eyes HNA's Hong Kong airlines
Singapore state investor Temasek Holdings has expressed interest in buying into Chinese conglomerate HNA Group Co's (海航集團) Hong Kong-based carriers, Hong Kong Airlines Ltd (香港航空) and Hong Kong Express Airways (香港快運航空), according to a source familiar with the matter.
However, an investment in the unlisted Hong Kong carriers by Temasek remains subject to a due diligence process that has yet to begin, said the source on condition of anonymity.
The Singaporean investor would likely emerge as only a minority holder in the Hong Kong airlines, which control valuable slots at Hong Kong's capacity-constrained airport, if a deal is completed, the source said.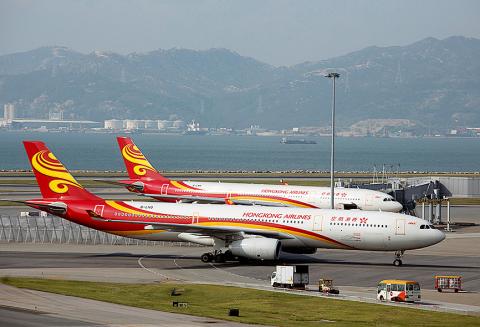 A Hong Kong Airlines passenger plane, front, taxies on the tarmac, while another is connected to a passenger bridge at Hong Kong International Airport on Sept. 11, 2013.
Photo: Reuters
Temasek and the debt-laden HNA, an aviation-to-financial services conglomerate, last week signed a memorandum of understanding to explore business partnerships in aviation and logistics.
A second source familiar with the matter said HNA is looking to raise funds for the Hong Kong airlines and Temasek is a potential investor.
Buying into the Hong Kong airlines would help Temasek get an aviation foothold closer to China, in a market dominated by Cathay Pacific Airways Ltd (國泰航空).
Temasek is the majority shareholder in Singapore Airlines Ltd, which sources said was not associated with the potential investment in the Hong Kong airlines.
Temasek, HNA and Singapore Airlines declined to comment.
Hong Kong Airlines and HK Express representatives said their respective airlines would not comment on "market rumors."
Corrine Png (方華婷), chief executive of Crucial Perspective, a transport research firm, said that Hong Kong Airlines would be valued at about US$1.1 billion and HK Express at about US$300 million.
The pair combined have about a 10 percent market share at Hong Kong International Airport, she said.
The ownership structure and finances of HNA's Hong Kong airlines are opaque. In January, HNA-controled Hainan Airlines Holding Co (海南航空) said it transferred a 55 percent stake in Hong Kong Airlines to an "independent third party," Frontier Investment Partner, incorporated in the Cayman Islands.
Hainan Airlines said the deal was structured in July last year to avoid future competition issues with the company's Chinese carriers.
US filings lodged in 2015 and 2016 show that HNA-linked groups at that time owned 96 percent of Hong Kong Airlines, which in turn held a 66 percent stake in Hong Kong Express, with the bulk of the remaining stake owned by HNA-affiliated groups.
Hong Kong Airlines, which in 2015 dropped plans for an initial public offering, has 37 mostly widebody jets with 24 more on order as it expands into long-haul markets traditionally dominated by Cathay in North America and Europe.
Hong Kong Express has 24 narrowbodies.
Temasek and Singapore Airlines had previously targeted the Chinese market with a planned purchase of a 24 percent stake in China Eastern Airlines Corp (中國東方航空) that was rejected by the Chinese carrier's shareholders in 2008.
The stake, then worth US$923 million, would now be valued at US$3.4 billion.
Comments will be moderated. Keep comments relevant to the article. Remarks containing abusive and obscene language, personal attacks of any kind or promotion will be removed and the user banned. Final decision will be at the discretion of the Taipei Times.