GM South Korea threatens bankruptcy unless revival plan gets union support
General Motors Co said it intends to file its South Korean unit for bankruptcy if its labor union fails to agree on a restructuring plan that needs to be outlined within the next four weeks, putting pressure on employees and the government to help it stay afloat in the country.
GM executive vice president Barry Engle on Monday told union leaders that the company needs employees' support by the end of this month, a spokesman for GM in Seoul said.
April 20 is the deadline for GM to submit its turnaround proposal to the government, and the company is seeking a tentative agreement with unions well before that, the spokesman said.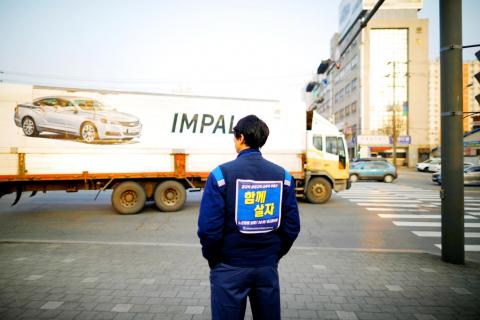 A forklift truck driver stands outside General Motors Co's Bupyeong plant in Incheon, South Korea, on March 12.
Photo: Reuters
GM is seeking concessions from the union to revive its South Korean business that has been hurt by mounting losses. Last month, GM offered a US$2.8 billion new investment plan to turn around the unit over the next 10 years following a threat to exit the country entirely.
Engle told union leaders that GM South Korea faces making US$600 million in payments by the end of next month to vendors and employees who applied for voluntary resignations.
He said GM would not inject that sum if its plan does not get the support from the union, and the company will choose to file for bankruptcy instead.
He also said the company would yesterday submit requests for financial support from the South Korean government.
Engle also said the company intends to manufacture two models targeted for the US market — one SUV and one crossover vehicle — in its South Korean plants.
As part of its turnaround plan, GM last month said it was closing a facility in the town of Gunsan.
The union said it asked Engle on Monday about the company's plan to assist the 680 workers at the Gunsan plant as a precondition for wage negotiations.
Engle said that there was no separate rescue plan for the Gunsan workers since the plant was already being shuttered.
The union has pledged to go on full strike if the company fires even one worker, Lim Han-taek, chief of GM South Korea's union, said in an interview last month, also urging the company to include electric vehicle models for its production plans in South Korea that would guarantee a longer stay.
Comments will be moderated. Keep comments relevant to the article. Remarks containing abusive and obscene language, personal attacks of any kind or promotion will be removed and the user banned. Final decision will be at the discretion of the Taipei Times.