Taipei shaved ice shop's daily sales hit NT$100,000
Yong Kang 15 (永康15), the new mango shaved ice shop set up on site of the famed Ice Monster (冰館) on Yong Kang Street, has achieved its revenue target of NT$100,000 (US$3,000) per day less than a week after its official opening on Monday.
The Taipei-based FnB Gourmet Group, the owner of Yong Kang 15, yesterday opened its central kitchen for the shaved ice shop to the media for the first time and said it was not worried that its seemingly overpriced desserts would scare away customers.
"We believe in the principle of market supply and demand. If our products are really too expensive, we would naturally be phased out," FnB Gourmet marketing director David Hsu (許立) said.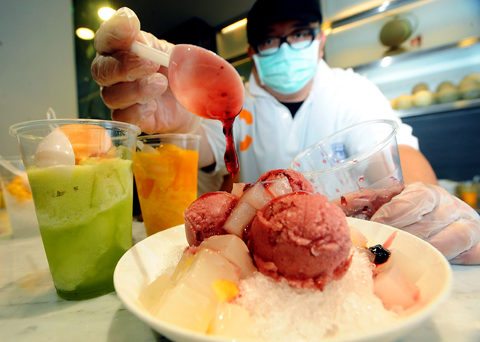 A worker prepares a bowl of shaved ice and ice cream at a shop on Taipei's Yong Kang Street yesterday. The shop stresses hygiene as one of its selling points.
PHOTO: LIN CHENG-KUNG, TAIPEI TIMES
Trying to differentiate Yong Kang 15 from its predecessor, Hsu said that the company had put a lot of effort into developing new recipes for its various shaved ice items to attract more dessert lovers from home and abroad. Ice Monster, which closed down about half a year ago over an ownership dispute, was well-known for its mango shaved ice desserts for 15 years and was included in the New York Times list of 13 things to do in Taipei if you have 36 hours.
While praising the ice shop for its fresh fruit, some customers said the mango serving seemed to be smaller and they couldn't feel much of a difference in taste and flavor compared with the previous shop.
"The fruit is very fresh and they use mango dressing instead of sugar water, which I find pretty tasty. But I feel like the mango serving, in particular, has become smaller," a customer named Tina Chou (周經婷) said.
Asked whether it was worth the NT$160 price tag, Chou said it was a bit pricey and that NT$120 would be more reasonable.
The reopening of the shop has also brought back more business to the neighborhood. A taro shaved ice shop next to Yong Kang 15 said it saw more customers come back these days.
"Our shop is less popular with foreign tourists, but we have indeed benefited from [Yong Kang 15's] reopening and many of our old customers have also come back," taro ice shop owner Li Yen-han (李彥漢) said.
FnB Gourmet said it was in talks with the National Palace Museum to open a store or kiosk at the museum to promote Taiwanese traditional shaved ice desserts to foreign tourists.
"By the end of this year, we hope to offer online ordering and home-delivery services to meet greater market demand and expand our retail businesses to hotels or department stores," Hsu said.
Comments will be moderated. Keep comments relevant to the article. Remarks containing abusive and obscene language, personal attacks of any kind or promotion will be removed and the user banned. Final decision will be at the discretion of the Taipei Times.