`Next' ready to battle for market share
TABLOID HEAVEN The magazine's boss, Jimmy Lai, is known for his aggressive style and shocking reports as well as glossy, revealing photos, which local rivals lack
The launch of Chinese-language Next Magazine (壹週刊) begins with a bang today as the company drops big bucks on a slick ad campaign. And they probably have to in a market saturated with over 1,000 different magazines, fighting for the attention of consumers. \nNext Magazine is expected to spend NT$120 million (US$3.6 million) on a four-week advertising blitz for the tabloid-style magazine's launch. \nBut the competition -- China Times Weekly (時報週刊) -- says they have long known about the intrusion into their newsstand space, but believe their strong reputation will prevail. \n"We already knew last October that Next Magazine would launch its Taiwan edition when some of our advertisers approached us and discussed the issue," said a China Times official surnamed Lin, who refused to be further identified. \nLin confidently questioned the Taipei Times, "Have you heard of China Times Weekly? I think most people in Taiwan know who we are but few of them are aware of Next Magazine." \nBut maybe a 17-storey building shaped like a dog's head will get their attention. The company's headquarter's has done just that in the center of Taipei's movie district. \nLin added that the China Times was not interested in competing with Next's big ad budget. \n"We don't think it is necessary for us to spend that much money to increase public awareness about us," Lin said. \nThe magazine's boss -- flamboyant publishing magnate Jimmy Lai (黎智英) -- is no stranger to controversy. \n"Controversial stories will sell, but controversy doesn't mean it's libel," said 52-year-old Lai, who moved to Taiwan from Hong Kong where he started Next Magazine. \nKnown for his clashes with Beijing, Lai plans to launch Next's Taiwan edition today with a targeted circulation of 250,000, which would make it the country's best-selling weekly magazine. \nThe China Times was skeptical about the sustained sales of the magazine at that volume. \n"We don't think the Next's 250,000 target is feasible in the long run. They may distribute that many magazines during the first few weeks but I doubt how long they can sustain that circulation because it would be too costly," Lin said. \nBut one of the three publishing firms contracted to print Next's Taiwan edition confirmed to the Taipei Times the numbers were for real. \n"They are printing 250,000, of which we are responsible for 40,000 copies," said a printing firm official who requested anonymity. The same firm also prints for rival rags the China Times Weekly and TVBS Weekly. \nAccording to the printer, TVBS Weekly also started out with big dreams, but later downsized to match market demand. \n"When the TVBS Weekly was first introduced about three years ago, they put about 200,000 copies into circulation, but now they put about 120,000 to 130,000 per issue," the printer said. \nWhile Taiwan has its share of gossip magazines, Lai brings with him Next's aggressive style of shocking readers with glossy, revealing photographs of celebrities' private lives while his local rivals rely mostly on text and newsprint. \n"I want the pictures to deliver as much information as possible," he said. \nLai hopes Taiwan's raucous, freewheeling democracy will prove fertile ground for his style of journalism. \n"It's very exciting to live in a democracy. It's too tempting," Lai said when asked why he officially changed his residence to Taiwan last December. \n"Democracy is irresistible. And this country is gonna open, is gonna undergo a great change and great change means great opportunity," said Lai, casually dressed in jeans by Giordano, a fashion chain he founded. \nIt was Lai's outspoken criticism of Beijing that led him to sell his stake in Giordano and relinquish the chairman's seat. \nHis Hong Kong-based Apple Daily (蘋果日報) newspaper is critical of Beijing and its reporters are routinely denied accreditation to cover official functions in China. \nLai said Hong Kong's Next will serve as a base to enter China's southern Cantonese-speaking media market once the doors are opened, while the Taiwan edition will target the Mandarin-speaking north. \n"Taiwan is definitely a strong catalyst to induce China going forward to its political restructuring to democracy," Lai said. \nHis Hong Kong-based Next Media (壹傳媒) has invested NT$500 million into the magazine's Taiwan edition, which will feature news on politics, the economy, entertainment and lifestyles. \nIt will sell for NT$75 a copy and Lai hopes to break even in two years. \nHe has hired about half of the 300 reporters laid off by Taiwan's online newspaper Tomorrow Times (明日報), which folded in February after a year in the red.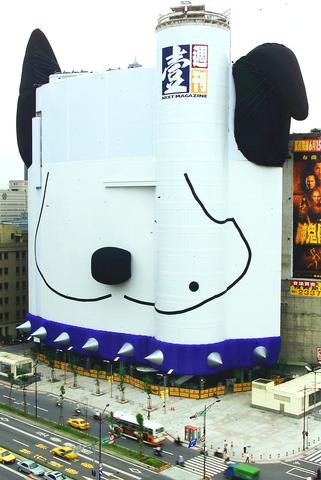 As part of a US$3.6 million advertising blitz, Next Magazine turned a building on Chunghua Lu in Hsimenting District into a giant ad resembling a dog, an allusion to paparazzi, known in Chinese as``doggy team.'' Next is to launch its Taiwan edition today.
PHOTO: REUTERS
Comments will be moderated. Keep comments relevant to the article. Remarks containing abusive and obscene language, personal attacks of any kind or promotion will be removed and the user banned. Final decision will be at the discretion of the Taipei Times.